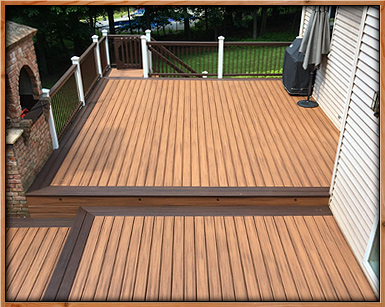 If you are looking for new deck construction in New Jersey, deck repairs in New Jersey, deck upgrades in New Jersey, a deck builder in New Jersey, and deck additions in New Jersey; Deck Works will be happy to sit down and come up with a custom solution to meet all your needs. A deck, porch, or outdoor living space can add value to your home along with a relaxing place to spend quality time with family and friends. To read more about our deck construction services please click here.
» All Phases of Deck Construction in NJ » Composite Decking
» Custom Deck Designs » Wood Decking » Deck Upgrades » Deck Repairs » Porches & Steps » Vinyl or PVC Rail Systems » Concrete Sidewalks & Patios
» Read more about our Deck Construction Services in New Jersey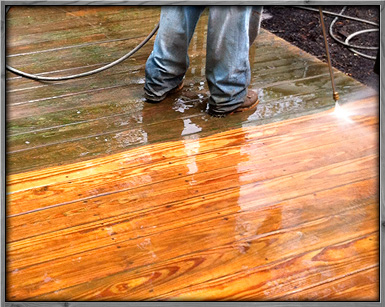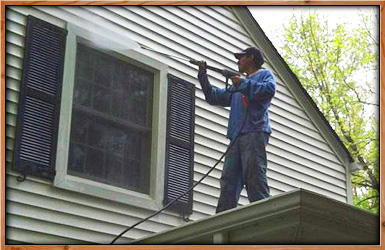 Since your deck holds more water, mold, mildew, pollution, and dirt then most other surfaces, it is very important that you protect it from damage. Deck Works uses all the latest cleaning solutions that are both very effective and environmentally friendly. Deck Works also uses solvents that will not harm the grain or fade the color of your deck, porch, and home. With the proper procedures Deck Works will be sure to complete your deck restoration project in a professional manner.

Deck Pressure Washing - Deck Works has years of experience and the proper procedures for your deck pressure washing in NJ. Deck Works takes the extra time to make sure your deck pressure washing is done correctly to prevent splintering or any other damage to your deck surface.
» Read more about our deck pressure washing services in NJ.

The proper deck stains, deck sealants, and oils Deck Works can bring the original color and texture back to your deck that has faded over time. Deck Works has a complete knowledge of all the best tinted sealers, solid stains, and moisturizing oils that will not cover the natural grain of your deck and protect from dirt, mildew, mold, UV damage, and foot traffic.
» Pressure Washing - For your home and business
» Deck Pressure Washing in NJ » Waterproofing
» Staining » Painting » Safety Inspections » Tune-Ups
» Eco Friendly Cleaning Solvents
» Read more about our Deck Maintenance & Restoration Services in New Jersey